CCG News
UMGCCC Golf Tournament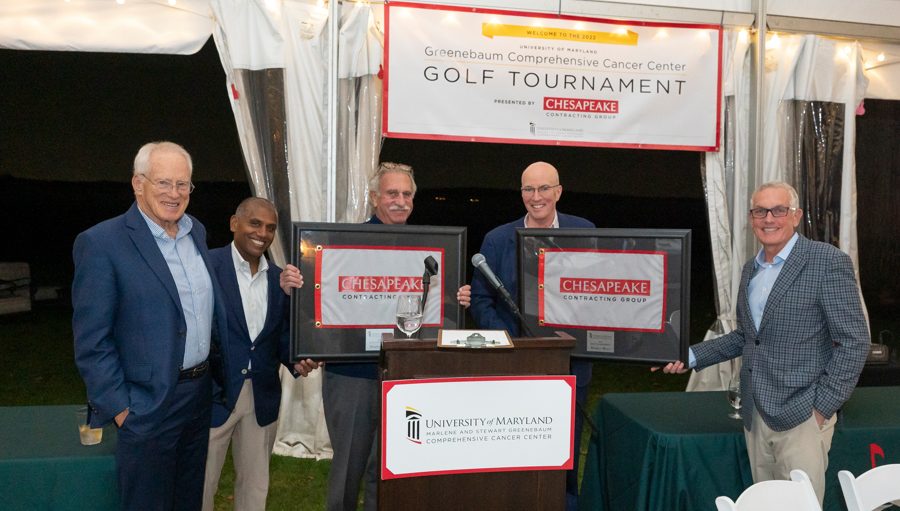 Chesapeake Contracting Group was the proud presenting sponsor for the 2022 Greenebaum Comprehensive Cancer Center Golf Tournament. Together, we raised over $630,000. Proceeds from the tournament benefit the Building for Life Campaign, which will provide funding for the new Roslyn and Leonard Stoler Center for Advanced Medicine—the new home of the University of Maryland Marlene and Stewart Greenebaum Comprehensive Cancer Center.

In 2014, Bobby Ginsberg stepped up as chairman of UMGCCC's charity golf tournament with two goals in mind: to raise money for the cancer center and to bring awareness to the remarkable advancements and amazing work that is being done every day. Under his leadership, the golf tournament has raised over $2 million since 2014.

"The money that we raise from the golf tournament all goes directly to the hospital," Bobby says. "While philanthropy is extremely important, it is just as important to raise public awareness of the cancer center. Many people do not realize all of the wonderful discoveries and amazing breakthroughs in cancer that have happened here. It is my ongoing purpose to ensure that the faculty and staff of the cancer center have the tools they need to continue to advance their research and make new discoveries that will save more lives."

Thank you to all of our valued partners who contribute to this tournament each year. We look forward to seeing everyone in 2024!