CCG News
CCG Wins Two SMPS Maryland Key Awards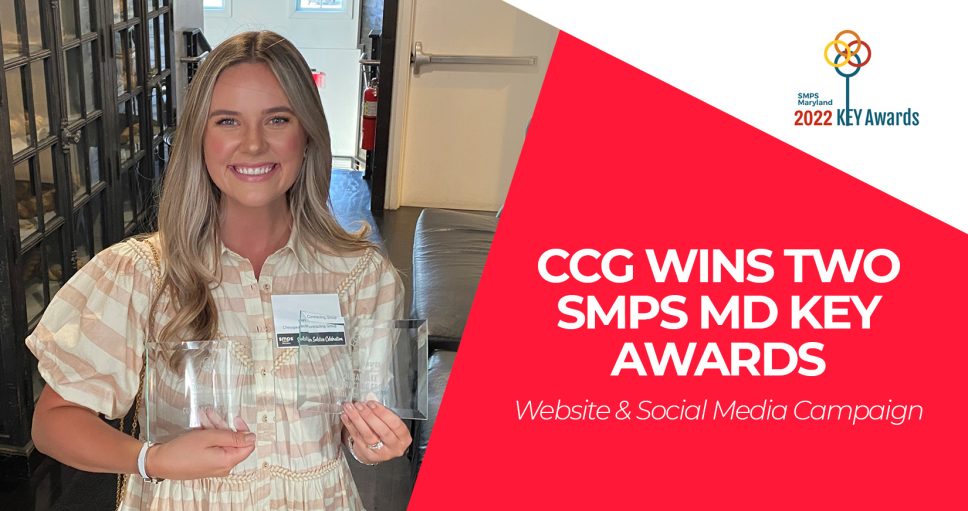 The CCG Marketing Department was awarded two SMPS Maryland Key Awards for Website & Social Media Campaign.
Chesapeake started the Hard Hat Hang-Up social media campaign in January 2021, highlighting one associate each month. The goal was to highlight who our associates are when they hang their hard hat up at the end of the day. Our objective was to select and interview one CCG team member per month in an effort to learn more about our associates, their passions outside of work, their history in the industry and advice they would give to new professionals entering into construction.
CCG transformed their once outdated and archaic website to a thoughtfully redesigned and rebuilt website. In addition to an updated aesthetic and improved backend technology, the new site serves as a springboard for an overall brand refresh. CCG's belief in putting relationships and wellbeing now resonates through the site's language, imagery, and the overall user experience (for both end users and the CCG team that updates the site). Some specific ways that this was achieved include:
• A mobile friendly site design/experience
• Thoughtful, intuitive site navigation
• Infusion of the company's culture through language an imagery in ways that appeal to potential employees and clients
• Use of best practices in SEO
• User-friendly administrative tools for updating the site
• The ability to share content from the site on social media
• Opportunities to establish CCG as a thought leader, such as a blog, case studies, and white papers
This new website was a heavy lift from all associates at CCG – participating in recruitment videos that are featured on the Careers page, involvement from leadership and project management for project information and data, and participation from field teams who were photographed for the new site imagery.  Our new site better promotes our inviting internal culture and excellence rapport with clients.