CCG News
Chesapeake Contracting Group Expands with New Office in Raleigh, North Carolina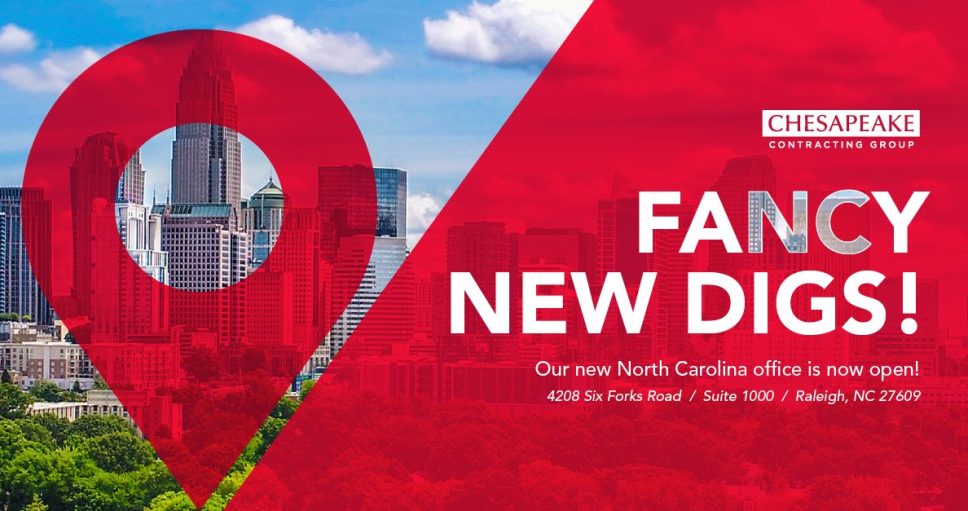 Chesapeake Contracting Group continues to engage in new development projects in the Triangle area, prompting a new office in Raleigh, North Carolina. In addition to their offices in Maryland and Virginia, the Raleigh location will enhance relationships with local trade partners, clients, and team members as well as serve to increase community connections.
"Our client relationships are continuing to bring us into the North Carolina market with greater frequency. Opening an office is our next step to increasing our presence as a top-choice, local builder. Our new office will help strengthen our plan to hire locally, continue to provide our trademark hands on service approach, and strengthen our relationships with area trade partners," said Micah Boyce, Vice President of Pre-Construction, Chesapeake Contracting Group.
The new office, located at 4208 Six Forks Rd, Suite 1000, Raleigh, NC, will be home to project management and estimating professionals who live in the Triangle region. CCG's most recent area project is Twin Lakes Center, a 23-acre, 180,000 SF grocery-anchored retail center consisting of retailers, restaurants, medical and service tenants.
"Our new Raleigh office enables us to place an even greater emphasis on serving our North Carolina customers. The office supports our mission to create great experiences for our clients, associates, community, and project stakeholders. Our unique approach to executing construction delivery services while providing the opportunity for our associates to reach their full potential" said Frank Settleman, CCG President.
CCG is looking for high performers who embrace a flexible work environment to join our growing team. If you are interested in working for a top-choice builder that cares about your success, please email careers@ccgmd.com.