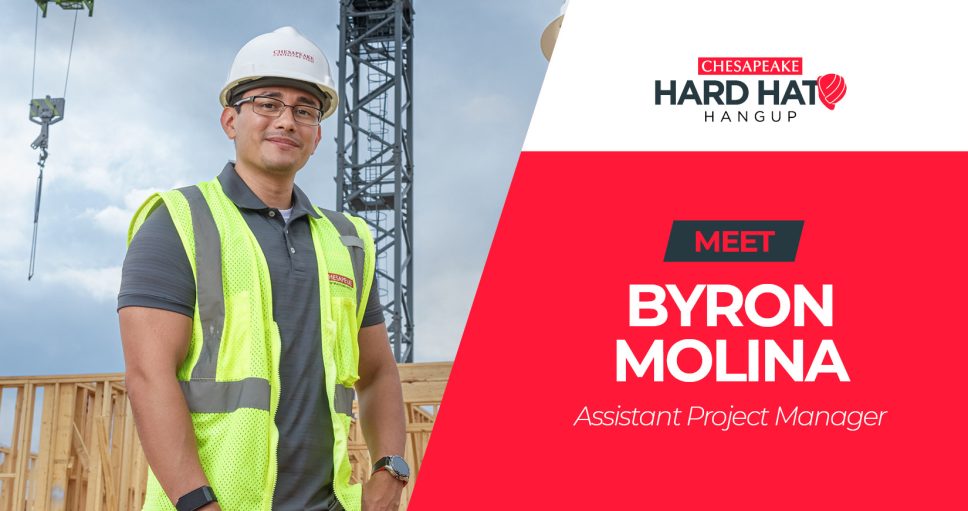 Meet Byron Molina, Assistant Project Manager and Hard Hat Hang-Up feature for the month of March. 
What got you into the construction industry? My experience in the military is what initially got me into the construction industry. I served as a Combat Engineer in the US Marines. Our construction projects ranged from military builds such as machine-gun bunker fortifications to humanitarian efforts such as renovating schools and hospitals in various developing nations.
What do you like most about being an Assistant Project Manager? I really enjoy seeing the fruits of labor. It gives me a great sense of satisfaction seeing all this backend work our team has done and watching it unfold on a site. It's also pretty cool to point out buildings randomly and say "I helped build that."
What do you enjoy doing when you're not at work? I enjoy recreational physical activities; specifically weightlifting and volleyball. I also enjoy playing video games; I'm currently playing through Pokemon Legends and I'm trying to get Top 5 Globally for the VR shooting game Pistol Whip. However, I don't keep myself bound to those hobbies as I love learning and trying new things which has led to several side projects.
What's your favorite thing about working at CCG? CCG truly embodies a forward-thinking mentality. Each idea I've presented is met with sincere consideration and an openness to explore the potential. This has made my ideas feel valued which encourages me to always look for a better way.
What is your favorite project you've worked on? Queenstown Assisted Living. This project was equal parts challenging and rewarding. As framing began, COVID-related restrictions were put in place which challenged the typical sequence of events for every process. We had to figure out unique ways to navigate through these challenges while maintaining the excellence CCG is known for. Our efforts resulted in a gorgeous facility for the community's elder to enjoy their golden years in comfort and poise. It ended up being so successful, an expansion is currently in the works to supplement the building we built!
You play a critical role in Procore/technology at CCG. What got you interested in the tech side of construction? I've always been interested in technology. Technology is basically magic to me which consistently draws my natural curiosity. Your phone, for example, is a piece of technology most of us are fortunate enough to have. That device enables us to communicate with someone across the planet at a moment's notice or share various types of information with a few finger taps…how is that not magic? So naturally, my curiosity and openness to change likes to challenge current construction methods and try to find better ways to do things through technology.