CCG News
Meet Ciara Marks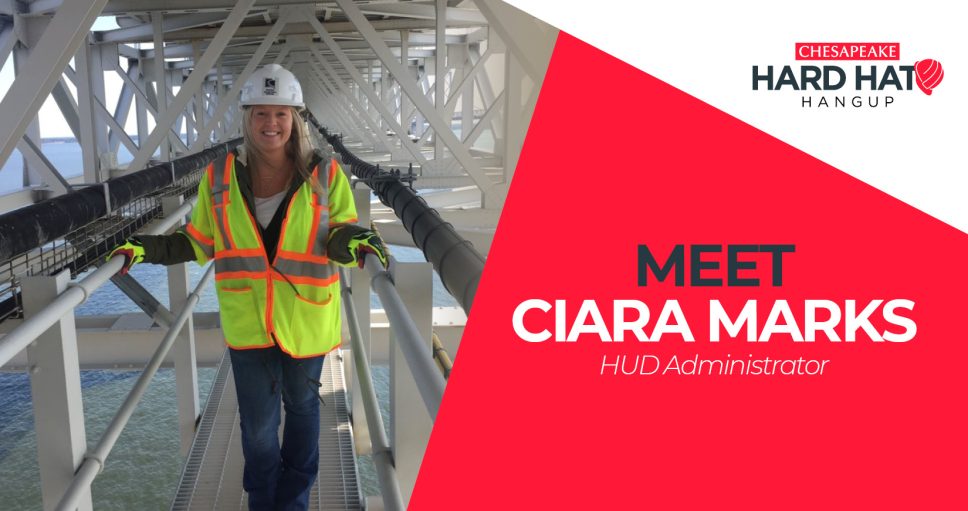 Meet Ciara Marks, HUD Administrator and this month's Hard Hat Hang-Up feature.
1. What got you into the construction industry?
I never expected to find myself working in the construction industry, but I am so happy that I do! After getting a call from my best friend since 9-years-old about an open position, I started working at the Chesapeake Bay Bridge in 2016, as an office engineer for MDTA. I had the best mentor, whose passion and excitement for construction work rubbed off on me and made me so excited and happy to learn all of the ins and outs of the construction process, both in the office and in the field. The best days were when we would climb the 37-story stair tower attached to the side of the anchorage to get to the catwalk underneath of the bridge… so cool! While working at the Bay Bridge and learning about bridge construction was so much fun, I am so excited to continue learning about building construction with CCG!
2. What do you enjoy doing when you're not at work?
When not working, I love spending time doing anything with animals and spending time with friends and family. I am probably the BIGGEST animal person you will ever meet and will do anything and everything I can to help, whether its volunteering at an animal shelter or driving injured wildlife 2 hours away for help. My fiancé and I currently have two cats and a dog, and I am currently trying to convince my fiancé to foster animals so that we can help even more! I also love finding fun events with animals… I have sipped wine with sloths, drank beer with farm animals, and visited a wildlife preservation with lions, tigers, wolves, and more. If it's anything involving animals, I will be there! I also love spending time with friends and family, whether it's a weekend away camping, going out on the boat, or hanging in the backyard with our neighbors and our pups!
3. What do you like most about being a HUD Administrator?
Being a HUD Administrator is very enjoyable because I get to interact with my coworkers at CCG, but also with people from the subcontractor side, as well as the HUD side. I have been able to learn things from different points of view and learn things that I did not know about before. I am a people person so I also just love getting to interact and form relationships with so many different people.
4. What's your favorite thing about working at CCG?
My favorite thing about working at CCG is the people that I have met. Everyone is so friendly and so willing to lend a helping hand when needed. If I have a question, I know there is always someone to help, and I just think that is really great. I also love the encouragement regarding professional growth and development. I have felt that CCG wants me to learn and experience different positions to find which position is best for me.
5. What project are you currently working on right now?
I am currently working on Remy II, as HUD administrator, with Woodyard Station upcoming. I am also working on McDonogh Locker Rooms Phase II and The Edge at Middelton, as Project Coordinator. The Project Teams have been a huge help with guiding me on my first projects with CCG!
6. Advice to other women entering the industry?
My advice to women entering the construction industry is to just go for it and don't be afraid to ask questions. I know that for women, entering the construction industry may be intimidating but everyone is very friendly and always willing to help you learn! Once you start in construction, you won't want to leave!