Chesapeake News
Meet Ralph Borgess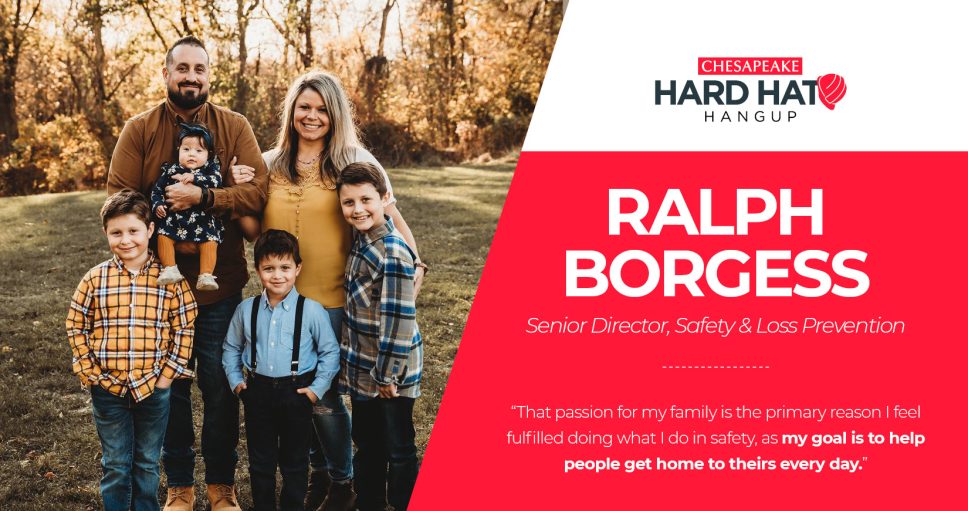 What got you into the construction industry, specifically safety?
My father owned a residential construction company and I worked for him throughout high school and college. I wanted to learn more about commercial construction and get more hands on experience so took the test to become a Union Carpenter in New Jersey and completed a 4 year apprenticeship. As I became a Journeyman and eventually a Foreman I observed countless injuries that could have easily been prevented and genuinely cared about keeping my crew safe. I began attending more advanced safety courses and eventually decided I wanted to focus on construction safety, and shortly thereafter began working as a contract Safety Manager for various companies. That has lead me to where I am today with CCG.
What are you most passionate about?
I am most passionate about my family and being a good father to my 4 children. Providing for them and giving them all of me when I'm with them is extremely important to me and it's truly the reason I wake up everyday. That passion for my family is the primary reason I feel fulfilled doing what I do in safety, as my goal is to help people get home to theirs every day.
What do you enjoy doing when you're not at work?
While not at work I enjoy being outdoors. Fly fishing is my favorite past time and something I do with my Son's a couple times per week after work in the summer. We also enjoy camping at various campgrounds with friends, and typically do a couple weekend trips per year.
What's your favorite thing about working at CCG?
My favorite part about working here is the family feel. I never feel like I have to compromise who I am just to fit in and feel very comfortable providing my input, which is very important to me. Having worked with a multitude of companies as a Consultant, including many of our competitors, CCG is truly unique and I am thrilled to be a part of this family.
Any advice you'd give to someone entering their career in this field?
Never stop learning, keep and open mind and have a sense of humor. This industry can truly be brutal on your mind and body and it's very easy to get so caught up in a project or deadline that you find yourself working almost 24/7. You need to find time to shut your mind off and recharge when necessary and realize that there is always someone's life on the line in the work we do.