Chesapeake News
Luke Hostetler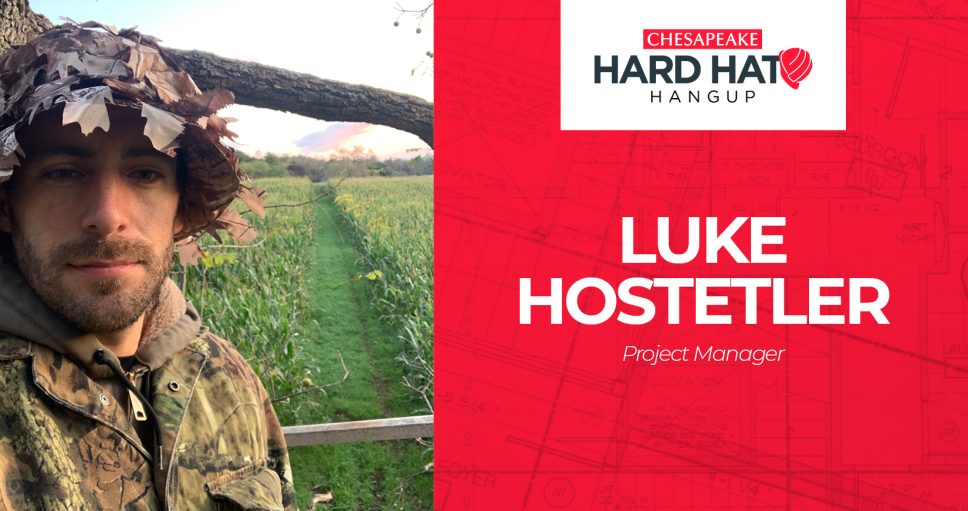 Meet Luke Hostetler - CCG's Hard Hat Hang Up feature for the month of April and newly promoted Project Manager!
How did you get into the construction industry?
Believe it or not, my educational background was in Bio/Pre-med.  Absolutely nothing related to construction.  However, there are some cool similarities between the two industries, such as the analogy of function between building systems and body systems, where each system relies heavily on others to be a fully functional organism or building.  With a bio/pre-med major, my plan was to go to Physician Assistant school and specializes in orthopedic surgeries.  After a few years of applying with no success, I was presented with the decision to change industries or to stay in medical research at the time.  With little career growth potential in medical research with a bachelor's degree, I decided to change industries to construction.  I was quite enamored with the prospect of getting into the construction industry. For me, it was the problem solving, critical thinking, and working with a team to build structures that will last for decades, giving families a place to call home.  This sparked a passion for me, and the rest is still being written.
You were recently promoted to Project Manager – What advice would you give someone looking to move up the ladder in their career?
The top three pieces of advice for an upcoming PE/APM:
Don't be afraid to ask any and all questions - early and often.  About construction details, processes, systems used, how best to use them, best ways to organize, the why's to all of these, etc.  Be a sponge and soak up as much information and wisdom as possible from those experts around you.  Don't be afraid to think outside the box and offer possible solutions.
Prioritize organization and use systems to stay on top of communication, deadlines, changes, etc.
Be a team player, go the extra mile to help those on your team to excel.  Give credit where credit is due to team members, trade partners and verbalize it. Take personal responsibility for your shortcomings, learn from them and continue to move forward.  Always stay positive with all players in the field.
What do you enjoy doing when you're not at work?
Church and fellowship, hanging with family, traveling, exploring new places, CrossFit, any and all sports, hiking, visiting breweries, hunting.
What's your favorite thing about working at CCG?
Hands down it's the people and the flexibility.  The new initiative of #bethere is exactly what makes CCG special, and offers the opportunity for us to be there for life moments that matter, whether it's your son's football game, wedding dress fitting (as seen by the soon to be Mrs. Tobin), or to be with a loved one who is struggling with medical uncertainties.
What is your favorite project you've worked on?
Hands down, it would be 2001 Aliceanna.  Between the great team vibe we have out here, and the complexity and challenge of the job on all levels, it's certainly something to write home about. 😃  Needless to say, I'm honored to be a part of this project team.
Do you have any mentors in the industry that have made an impact on you/your career?
The most influential mentors have been primarily these guys at Aliceanna – Dan Hannon, John Wildrick, John Sullivan. To avoid looking like a suck up to these gentlemen, I'll keep it short. Dan and John Wildrick have been the most impactful as it relates to the PM role and responsibilities, allowing me freedom to make decisions, fail and learn from them, supporting along the way. John Sullivan has been a breadth of knowledge when it comes to constructability, and although he would probably disagree, he has shown immeasurable patience with me with my many questions.