CCG News
Caring about Healthcare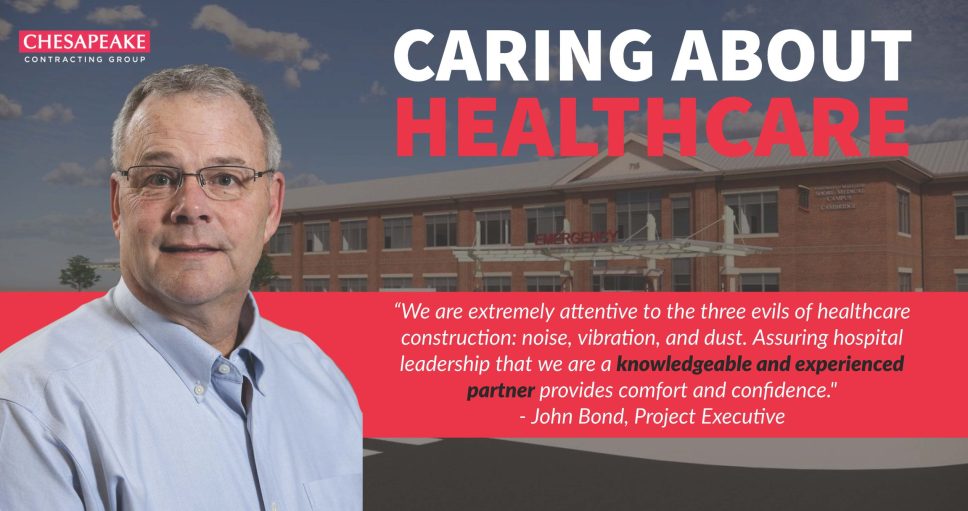 At CCG, we've delivered quality healthcare construction for decades. As CCG continues to build a credible reputation in this vital industry, we've seen healthcare design and construction evolve as shifts in the healthcare model happen over time. CCG takes pride in building long-standing and high-quality projects which makes lasting impacts on the surrounding communities.
CCG's industry leadership is evidenced by the significant projects they currently have underway. The biggest, the UM Shore Medical Campus at Cambridge, includes a full 24/7 Emergency Department, medical services pavilion and helipad. The 88,000-square-foot project is scheduled for completion in late summer of this year. Rounding out the list of current healthcare construction projects are: the Easton Radiology Room Renovation, Easton, MD and the Carroll Skilled Nursing Facility in Westminster, MD.
The UM Shore Medical Campus at Cambridge project, which began before the COVID crisis, experienced the heightened the pressures of staying on track and on budget as material and supply chain shortages developed. "At CCG we were determined to maintain our reputation for meeting our timelines and quality, regardless of the obstacles. For example, normal procedure for shielding a room is to lead sheetrock. When lead sheetrock became impossible to get - we ended up buying rolls of sheets of lead and installing it in between two sheets of sheetrock to provide the proper shielding required in order to get the equipment," explained John Bond, CCG Project Executive. "Our ability to be nimble and creative in developing solutions became more of an advantage for us," he continued.
Bond, who started working in healthcare in 2000, described that keeping up with emerging technology and helping facilities plan is key to CCG's success in the field. "Medical equipment and technology are continually changing – all of the equipment is becoming more and more sensitive and precise. We work closely with structural engineers and design teams to make sure we understand how critical equipment such as surgical booms, catheterization lab equipment and MRI machines will work and need to fit into spaces", said Bond. "Listening to requests and concerns from the end users, the doctors, is an important part of our process. Being a contractor who understands the equipment and the needs for that, allows for less mistakes and less need for changes," he continued.
According to Bond, many opportunities exist in healthcare construction, as patient needs and expectations continue to drive plans of current health care facilities and systems. And healthcare construction is one of the few sectors expected to avoid a recession.*
Another key to CCG success in the field is the understanding of the sensitivity of the environment during construction. "When we're doing work in active hospitals, we make the safety of patients and staff a top priority. We are extremely attentive to the three evils of healthcare construction: noise, vibration, and dust. Assuring hospital leadership that we are a knowledgeable and experienced partner provides comfort and confidence," Bond explains.
As healthcare organizations continue to evolve and provide the best accessible care in their communities, CCG looks forward to continuing to offer their expertise and excellence in the industry. "We hold ourselves to the highest of standards, and our clients can expect to receive our best work from the start of planning through project completion," stated Bond.
* Kermit Baker, Chief Economist for the American Institute of Architects (July 20, 2020).