CCG News
CCG's Bobby Ginsberg Wins CEO Award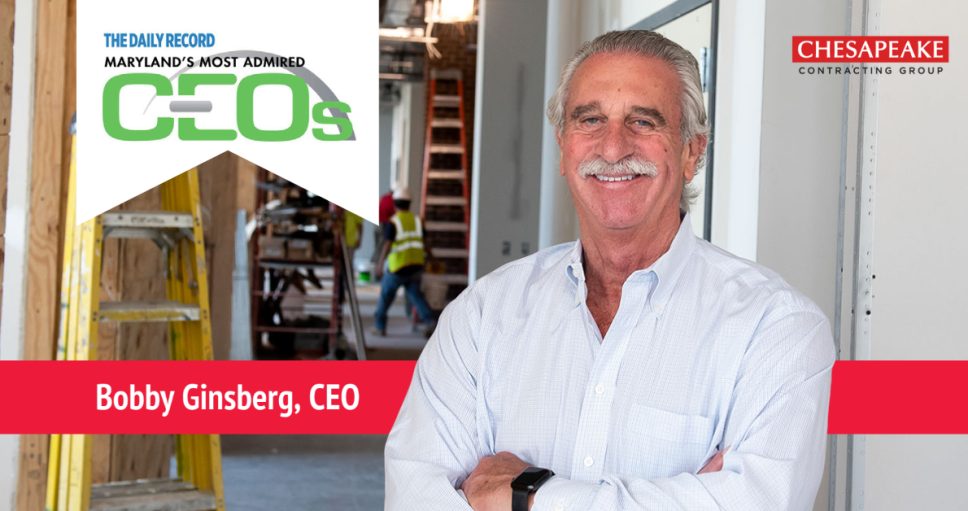 Congratulations to Bobby Ginsberg on winning The Daily Record Maryland's Most Admired CEO Award for the Private Company With 51-149 Employees category.
In 1979, S. Robert "Bobby" Ginsberg started Chesapeake Contracting Group and his first year in business, he was the sole employee. Since then, the company has significantly grown and has been awarded numerous multi-million-dollar projects in the Mid-Atlantic region, has employed over 140 people and received a myriad of awards for their innovation, creativity and attention to detail. He is a strong leader, a mentor, a motivator, a team builder, a visionary and an articulate, yet tough negotiator. He a philanthropist, an inspirational volunteer, and a community supporter.
As the founder and CEO of CCG, Bobby works efficiently, effectively and in collaboration with many others, including outside partners. Through his vision and ability to read trends and react, CCG has become a leader in several niche industries such as luxury car dealerships, hospital and healthcare centers, storage facilities and mixed-use buildings.
Bobby's relationships with his many partners, subcontractors, clients and colleagues is what truly makes him stand out. He genuinely values these important relationships and nurtures them at every turn. Whether he is on a job site consulting with the design team or attending an employee event, he always finds time to talk to people, listen and provide insights. Congratulations, Bobby!