CCG News
What's in Store?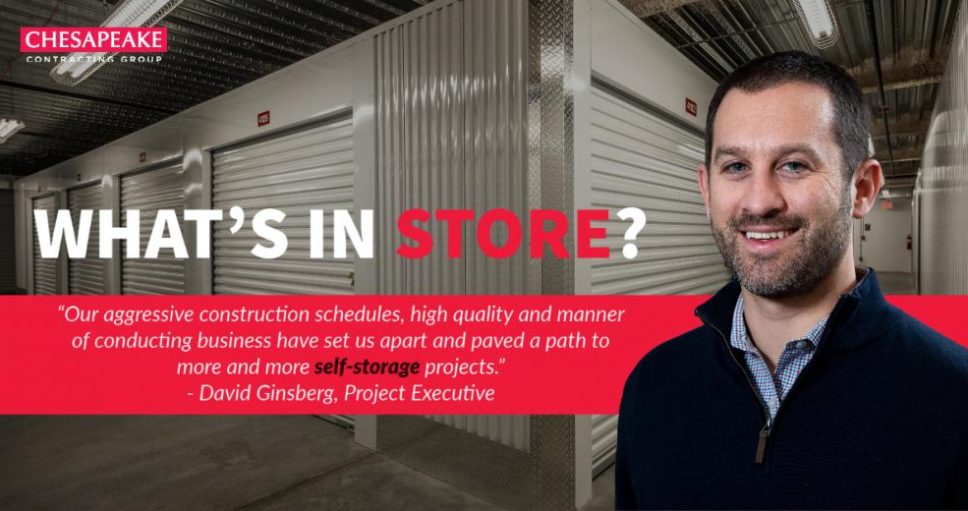 At Chesapeake Contracting Group, there is a belief that "successful projects are the result of strong foundations." Their strong foundations built on strong industry relationships have developed into a leading position in the construction of self-storage spaces in the Mid-Atlantic region.
CCG first entered the space building a 6-story, 140,000 square-foot self-storage space in Largo, Maryland. More opportunities quickly followed as CCG leadership realized they were ideally positioned for the type of work that the self-storage industry encompasses. According to Project Executive David Ginsberg, "we discovered that we are the right size, offer competitive pricing, and have the specialized subcontractors needed for these projects. It's in our wheelhouse – we know what the issues are, and understand the systems involved. Our aggressive construction schedules, high quality and manner of conducting business have set us apart and paved a path to more and more self-storage projects."
The industry took off in the 1960s, when growing consumerism led Americans to buy more stuff than they needed. Since then, self-storage businesses have steadily grown. It is estimated that currently 10.6% of households in the U.S. rent space in a self-storage facility – that's approximately 13.5 million households. As demand for storage increased, so did demand for experienced construction teams who understood how best to manage the logistics of building in a difficult location, often where other projects could not be developed. Self-storage projects are generally a good fit for land that cannot support the highest use, since parking and accessibility are not critical elements.
The number of self-storage facilities nationwide grew to more than 60,000 in 2020 from around 47,000 in 2008, according to the research firm IBISWorld, contributing to a more professional industry. And as management and investment in self-storage evolved, so did facility design and construction. Once again, CCG was there, perfectly suited for the demand. "We are working on 5-7 story buildings that require some level of sophistication that we can uniquely provide. Many self-storage spaces are now designed to look more like attractive retail outlets than the original concept for the industry," Ginsberg added.
There is continuing demand for commercial and personal self-storage space, driven by factors ranging from individuals who are moving or downsizing, increasing rental rates, and businesses using storing space while offices are closing. And as the country's population continues a trend toward mobility, downsizing and renting, and vacancy levels sit at all-time lows, people simply need more space for their belongings. The CCG team is poised to continue growing this part of their business to meet the needs of a changing society and industry.