CCG News
Building with Safety in Mind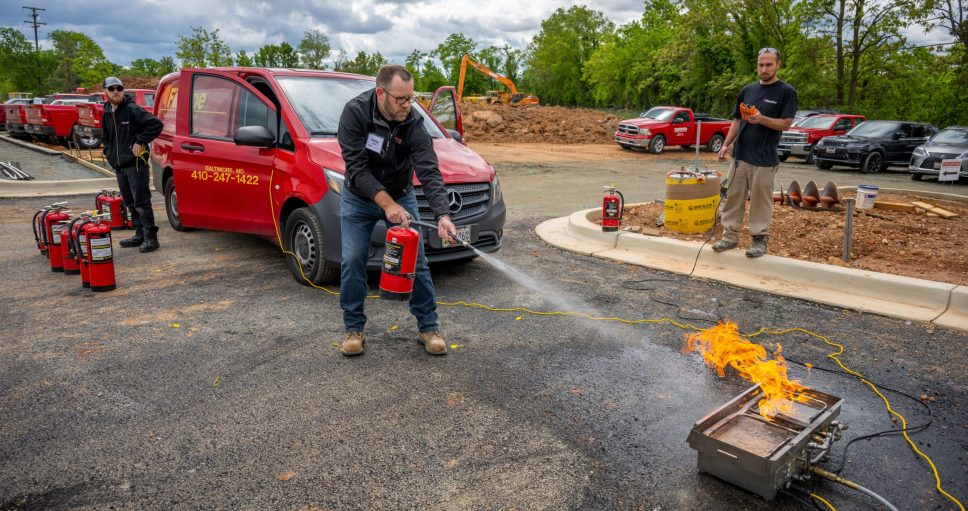 Fire Prevention Techniques for Construction Sites
Recent events have reminded us that construction sites are prone to fire incidents, which can result in catastrophic damage and endanger lives. To mitigate this risk, contractors must prioritize fire safety by implementing effective measures. In this blog post, we're exploring a range of best practices that can help safeguard construction sites against arson and minimize the likelihood of fire events. By following these construction fire prevention techniques and recommendations, contractors can create a safer working environment for their teams and protect valuable assets.
Eliminate open flame source – When considering temporary heat sources, consider using forced air heaters that sit outside of building in lieu of flame pots, salamanders, and open flame heaters.
Enhanced site security – opt for an automated system that provides both security and fire detection capabilities. On CCG Residential's recently completed Remy Apartments project, the team partnered with Mobile Video Guard, which provided peace of mind and added security.
Consider treating the wood with fire retardant - M-Fire has pioneered a unique method to prevent fires in wood-framed buildings during construction. They apply a clean and eco-friendly fire inhibitor to protect wood frame structures, making them safe from the dangers of fire accidents or arson attacks.
OSHA regulations – Review all OSHA regulations regarding fire extinguishers required on construction jobsites. The number of fire extinguishers required depends on the number of floors and square footage of the project. Firefighting equipment must be periodically inspected to ensure operating condition, and all equipment needs to be easily accessible at all times.
Other tactics to employ:
Submit a site safety plan covering all construction project phases to your local fire marshal's office for approval.
Ensure a No Smoking policy is in place and enforced on-site.
Ensure hot work policy in in place and enforced for all cutting, welding, grinding operations, and other metalwork.
Appoint a certified Site Safety Manager to monitor the site during working hours.
Install automated fire watch system to monitor the building 24-hours a day once construction begins and until all fire protection systems and monitoring equipment are operational.
Hold training sessions (use a certified professional) on how to operate a fire extinguisher. Continue these weekly throughout the construction project. Chesapeake recently hosted an all-hands safety event where Fireline held a fire extinguisher training.
Reinforce the no smoking and no cooking policy, hot work procedures, and instructions on reporting smoke or fire at weekly foreman's meetings.
Provide and maintain clear access routes for fire apparatus.
Schedule fire safety inspections.
Coordinate pre-project inspections, walk-throughs, and building familiarization tours with the local fire department.
Store Class I and II flammable and combustible liquids more than 50 feet away from the structure and secure them during and after use.
Request additional patrols from local law enforcement to help deter trespassing and arson.
All flammable and combustible liquids and gases should be used and stored so that they do not present a fire hazard to the site. Limit the amount of flammable and combustible materials inside the building under construction and designate safe storage locations - outside of building.
Automatic sprinklers should be activated as soon as practical as construction progresses.
Should a fire start, notify first responders immediately. Evacuate the building and clear the area for fire trucks responding to the scene.
Conclusion
In conclusion, fire safety is of utmost importance on construction sites, where the combination of various materials, equipment, and activities can create a high-risk environment. By implementing the best practices outlined in this blog post, contractors can significantly reduce the risk of fires and their potentially devastating consequences. Prioritizing fire prevention and employing proactive measures such as eliminating open flame sources, enhancing site security, and treating wood with fire retardant will go a long way in protecting both workers and property. By adhering to these practices and promoting a strong safety culture, construction sites can be better prepared to prevent, respond to, and mitigate fire incidents effectively. Remember, a little extra effort in fire safety today can save lives, assets, and countless hours of hard work in the future. Stay safe and make fire prevention a top priority on every construction site.
To learn more about Chesapeake's safety program, click here.