CCG News
What is a Project Manager?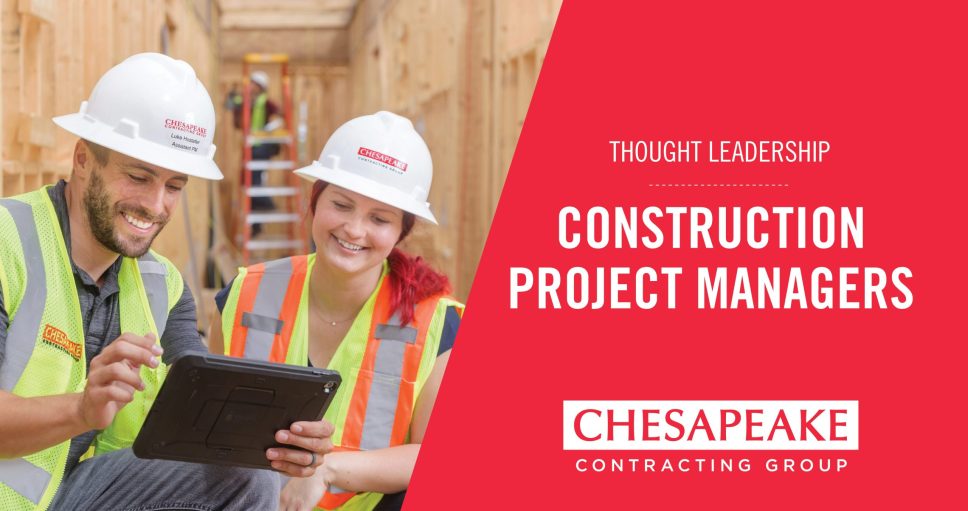 What is a Construction Project Manager and What do they do?
Behind every successful project is a Project Manager who is organized, able to identify and solve problems, works well with others, and possesses excellent communication skills. Project Managers are essential to ensure the project stays on schedule, within budget, and to Chesapeake's standards while delivering a client experience that is defined by quality, integrity, and trust.
Project Managers are the main point of contact for our clients, trade partners, and stakeholders. They act as the primary leader for the business side of the construction project by coordinating, implementing, and managing various facets necessary to construct a project. Project Managers are strong in their ability to problem solve as each project brings its own unique set of challenges. They also act as a leader and advocate for their team, mitigating risks, delegating work, and empowering their internal and external team-members. Every day is different in the world of Project Management, which is why this role is both challenging and exciting. Many of our Project Managers say their favorite aspect of the role is working as a team to overcome the challenges they face - their most rewarding projects are typically not the easiest but rather the most complex. 
How to become a Project Manager
There are many paths one can take to becoming a Project Manager. Most Project Managers have a construction management or civil engineering degree that provides the foundational knowledge needed to be successful in the role. Likewise, gaining real world experience; whether through a part time job or an internship also provides relevant industry knowledge. 
At CCG, we offer the EDGE internship program to help students develop their skills and gain invaluable experience in the construction industry. If you are a rising sophomore or above and currently enrolled in a bachelor's degree program with a cumulative GPA of 3.0 or above, click here to learn more about what we have to offer: https://www.ccgmd.com/careers/internships/
Top 10 Tips and Skills to be a successful Project Manager
Effective leadership skills
Adaptability
Excellent communication Skills
Sound relationship skills
Strong construction knowledge
Excellent time management
Ability to identify and mitigate risk  
Good problem solving skills
Strong organization skills
Ability to delegate and coach 
Inside look at the department at Chesapeake Contracting Group (CCG) 
At Chesapeake, Project Managers work side by side with our Superintendents - much like business partners, to ensure project success. While Superintendents are on site every day, Project Managers typically work in the office and visit their job sites once or twice per week. They manage the construction process to make sure the project is done on time, within budget, and to the quality specified.
If you are looking for a job fresh out of college, consider joining CCG as a Project Engineer. In this role you will get to see what it's like working in both the field and in the office setting. This experience builds on your foundational knowledge and provides the proper training to ensure your progression up to Project Manager path.
At CCG, we are all about teamwork. Typically, the size of the project depicts the amount of support needed. However, every project at CCG is staffed with a Project Coordinator for the administrative tasks, a Project Manager for technical expertise and a Project Executive for oversight. Larger and more complex projects may require additional support from Assistant Project Managers and Project Engineers.
To help ensure your success, we employ state-of-the-art technology. At CCG, Project Managers use Procore, Bluebeam, Microsoft Teams, Microsoft Project, P6, and Timberscan.
At Chesapeake, we build across a broad range of markets and industries including multi-family, healthcare, automotive, self-storage, retail, and senior living. Check out some of our work here: https://www.ccgmd.com/portfolio/
We value and take pride in our associates and provide the support to enable them to grow both personally and professionally. Are you ready to get started? Click here to apply today: https://www.ccgmd.com/careers/