Chesapeake News
What is the EDGE Internship?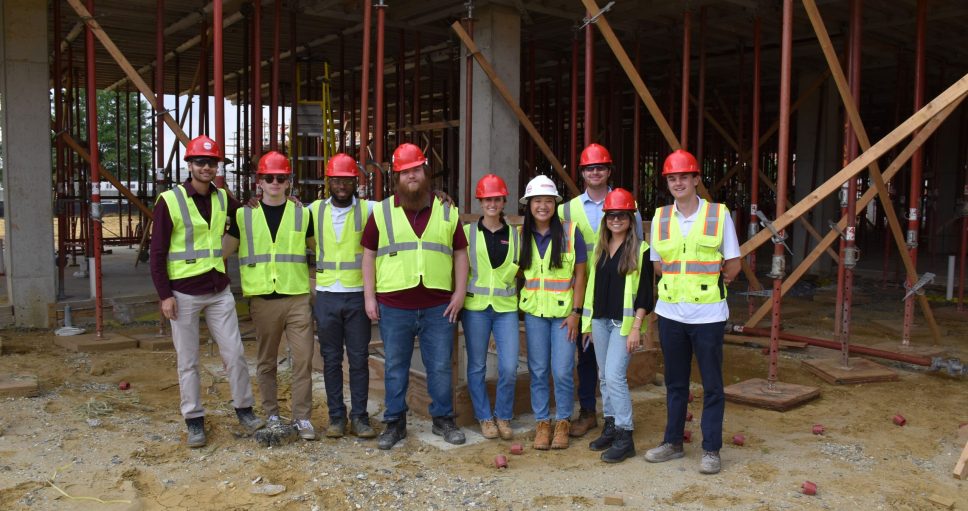 The EDGE internship is a program that gives you an EDGE. This stands for the four pillars of our program, Experience, Develop, Growth and Explore. The EDGE program allows interns to experience multiple facets of construction from Estimating to Project Management to onsite field work – our interns can explore it all!
Marie Schmitzer as well as Jeremy Gillespie, now full-time Project Engineers, share their intern experience at Chesapeake:
Marie Schmitzer, 2020-2021 EDGE Intern:
"As an EDGE intern, you become a part of the day-to-day life of a construction project. The Superintendent began by giving me the responsibility of creating daily logs for the activities that took place on site. This allowed me to talk to all the subcontractors that were working to see which tasks would be completed by the end of the day. At the end of my internship, I was given the opportunity to oversee one of the subcontractors. I became their point of contact for questions, changes and any challenges faced. This allowed me to gain more knowledge of their trade while increasing my construction network."
Jeremy Gillespie, 2021-2022 EDGE Intern
"As an EDGE intern, I was able to experience the end of the pre-construction phase and the beginning of active construction. My Project Manager and Project Engineer were very eager to get me involved in the project as much as possible. When I started my internship, I had no construction experience but by the end I was able to understand the project documents and even got involved with writing scope sheets and putting together contracts for our subcontractors. Seeing the end of the pre-construction phase for my project really shows the importance of handling issues early; it's makes it easy to reference documents during construction so the project can run smoothly."
In addition to our engineer internships, we are excited to extend opportunities in business operations and marketing. These interns will collaborate across teams to understand the intricacies of business as it relates to General Contracting. Interns will gain real world experience and make a meaningful impact in the heart of our company working in Accounting, Marketing, IT and Human Resources.
Regardless of your chosen internship path, our commitment to your growth and development remains the same. These internships are not just about gaining practical skills; they are about forging a pathway to a rewarding and impactful career.
Internship Program at Chesapeake
Chesapeake's internship program provides a hands-on and well-rounded experience to build off of your academic foundation. Whether you are working in the field or in the office, you can expect a summer devoted to your growth and learning. We pride ourselves on our one-on-one mentorship, which is designed to empower you in your journey. We provide a platform where you can freely ask questions, seek guidance, and engage in meaningful conversations. Your curiosity and enthusiasm are not only welcomed but encouraged as a vital part of your learning experience.
Throughout the summer, interns can look forward to a variety of internal & external networking events, Friday skills training, individualized goal planning, site tours and an intern summer project. This past summer, our interns went to a baseball game, golf outing, and crab feast.
What our 2023 interns say about chesapeake
I was looking for applicable real-world experience and Chesapeake gave me that. I was met with a tremendous culture which allowed me to be comfortable in improving all my skills

Austin Hendricks
This internship is a great opportunity for anyone interested in Construction Management. Chesapeake's friendly environment makes this internship not only a place to learn new things daily, but also enjoy every minute of it. This is what I appreciated the most.

Zak Patel
I feel like I was welcomed in with open arms as an intern. I feel like I was a part of something bigger than myself. I think that at other companies I wouldn't have been able to get this hands-on experience with people to help me in every corner. I feel like this gives me perspective on how I want to pave my own future and there are people here who are more than welcome to help me or tell me about how they got into construction. I am very grateful for my opportunity and time here at Chesapeake and would recommend this to anyone who is looking to learn more about the construction industry

Julia Heiner
I would definitely recommend the EDGE Internship to other students due to the emphasis towards the interns. Throughout the course of the summer, I was asked numerous times about what I am learning. The emphasis to ensure that the interns leave better than they come is very applauding.

Curtis Clinton
HOW TO APPLY
If you are interested in joining us for the summer, check out our application below! We invite rising sophomores, juniors and seniors pursuing a degree in engineering or construction to apply. Additionally, business internship applicants are required to be pursuing a degree in business or a similar course of study.