CCG News
Anna Scheder | Day 7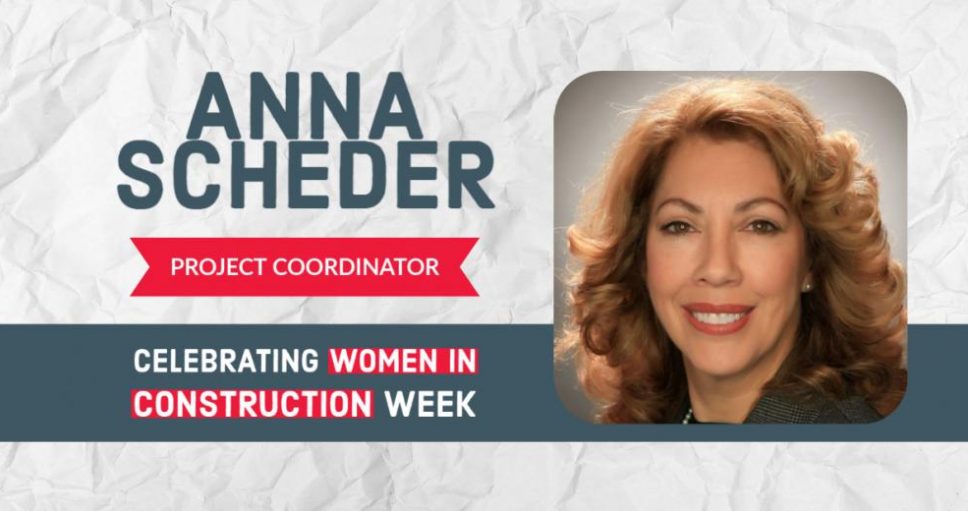 Today is the last day of our featured highlights for Women in Construction Week and the spotlight is on Anna Scheder, Project Coordinator at CCG. Anna's long-standing career in the cosmetic industry took a seemingly drastic turn when she switched over to construction. Despite the differences, Anna believes there is more in common than one might think. "While the industries seem quite different, the goal is the same - delight the customer! I was open to learning a new business and was aware that the building industry was strong," Anna explains. Her favorite part about being a Project Coordinator is working with our valued trade partners, cultivating strong relationships with her associates, and visiting the jobsite where the paperwork comes to life. Anna's advice to young women considering the construction industry is, "Go for it! This industry has different facets where you can choose where you want to begin and how high you want to go. From planning to execution, there is a rewarding feeling of accomplishment."
What led you to choose construction as your career path?
When Procter & Gamble sold Cover Girl to Coty, our jobs were moved to their New York offices. This led me down the path of a new career. While the industries seem quite different, the goal is the same - Delight the customer! I was open to learning a new business and was aware that the building industry was strong.
Who inspires you and why?
Leaders that bring individuals from different backgrounds together to create a high-performance team. One of my favorite examples is Pat Summitt, Tennessee Lady Vols basketball coach. She found a way to get the best out of each player and brought them together as a team. She is a true leader with a strong work ethic and required the same from her players. Her career led her to coaching the Olympics where she won a silver then a gold medal for the US.
What do you like most about being a Project Coordinator?
My favorite part of being a Project Coordinator is building relationships with my coworkers and subcontractors.
What advice would you give a young woman who's considering entering into construction?
Go for it! This industry has different facets where you can choose where you want to begin and how high you want to go. From planning to execution, there is a rewarding feeling of accomplishment. Reach out to other women in construction and seek a mentor.
What is your most memorable moment working in construction?
Being invited to a jobsite where I met the Owner and saw the paperwork come to life.
What is your favorite or most challenging project you have worked on or been a part of?
Pasadena Crossroads was the most challenging job since I had never worked with sub jobs in Procore. Building a shell and then adding tenants that all had different requirements was quite a challenge. However, it expanded my understanding of the Procore software capabilities.
What traits does a person need to be successful in the construction industry?
to detail is important. This goes across keeping a safe work environment and accurate administrative skills. Ensuring that everyone follows safety protocol while on the jobsite and not missing a zero or placing a decimal in the wrong place is imperative. Sloppy work on either can have major consequences.